March 14, 2016
| by Jeff Nun, USMTS.com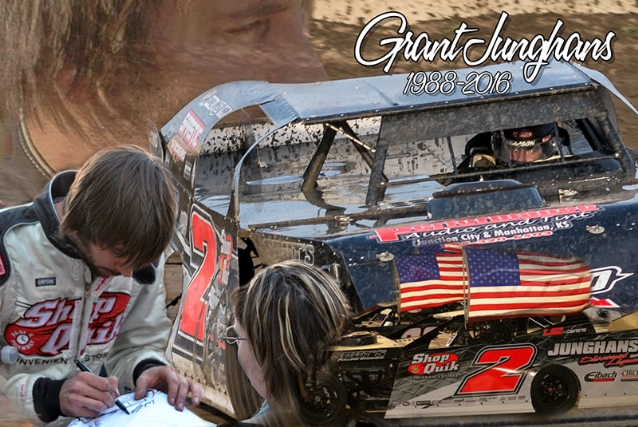 Every once in a while we are blessed with the presence of an individual who, through selfless acts of courage, inspires us to do remarkable things we never thought possible.
It's rarely on purpose. Instead, these people don't necessarily inspire through the words they say but rather by the super-human strength they show in bearing a cross most of us could never fathom carrying.
Grant Junghans was one of those people.
This past Saturday night while many of us were watching or competing in the sport we cherish, and celebrating the end of dirt track racing's annual hibernation, Grant raced beneath the final checkered flag that all of us will someday take.
As evidence of his impact on the racing community and those with whom he crossed paths, news of his passing quickly circulated through social media, and by morning enough tears had fallen to soak every dirt track on the planet.
And while we mourn the loss of a great friend, great competitor and great teacher, we can rejoice in the lessons he taught us. Never give up and cherish every moment of your existence. We owe him that much.
It's safe to say that no better race has ever been run than the 27-lapper Grant Junghans just completed.
All of us at the USMTS—employees, officials, competitors, sponsors and fans—will miss you, Grant. Our deepest sympathies are with Grant's family and close friends. To his parents, thank you for bringing him into this world and sharing him with us.
Information regarding memorials, funeral arrangements and more will be announced in due time. Meanwhile, you can learn more about Grant on his website at www.grantjunghans.com or his Facebook page at www.facebook.com/grantjunghans2.
Junghans won't let cancer keep him down
by Jason Feldman, Rochester Post-Bulletin, July 25, 2014
It's difficult to know who or what is in the tougher position: Grant Junghans or the cancer that still lives in his body.
As hard as that cancer has tried to take down the 25-year-old from Manhattan, Kan., he has fought back at it even harder. And after all he has been through over the past four-and-a-half years, the safe money should be bet on Junghans to win the battle.
He's feeling at his best these days when he's back behind the wheel of his No. 2 Shop Quik Modified. That's where he can focus all of his energy on what he loves most.
Junghans is one of approximately 90 drivers participating in the 4th Annual World Modified Dirt Track Championship at Deer Creek Speedway this week.
"I'm just happy to be up here to race," he said during Wednesday night's practice session. "A realistic goal this week would be to make the show. I'd love to do that, especially since I've been struggling a little this season and I've had hard times here; I've never really run all that well here."
Junghans raced frequently at Deer Creek as a teenager and into his early 20s, often with the United States Modified Touring Series.
In recent years, Junghans' trips to the Rochester area haven't been for fun; they've been for survival.
He was first diagnosed with cancer in February of 2010 when he felt a small knot in his shoulder, about the size of a pea. He had surgery at a hospital near his home in Kansas to remove the lump, but his doctors there immediately ordered him to see a specialist.
Junghans came to the Mayo Clinic, where doctors put him on chemotherapy for most of the spring and summer of 2010. In December of that year, he returned to Mayo for a routine checkup only to learn the cancer had spread to his lymph nodes and into his chest, requiring another surgery.
The cancer has never completely left his body.
It came back with a fury a year ago.
"Last July I had another surgery up here," Junghans said. "There were two spots on my brain that they had cut me open and pull out. It wasn't healing right, so they had to do it again in December. After that, I didn't feel up to doing much of anything for a while. I just sat around the house and didn't move."
In late January, Junghans finally felt up to hitting the road, not to race, but to watch his younger brother, Chase, race in Arizona. Chase, 21, is in his rookie season with the World of Outlaws Late Model Series. He finished 11th in the Gopher 50 at Deer Creek on July 13.
"He's living his dream and I'm really happy for him," Grant said.
In a way, Grant is back to living his dream. He's not racing full-time — "there are some other (cancer) spots here and there on my body that the doctors are keeping an eye on," he said — but enough to keep his spirits up.
"I've been feeling pretty good this summer. They've got me pretty well cleared up," said Junghans, whose next scheduled checkup at the Mayo Clinic is in August, then he'll return to Deer Creek in September for the Featherlite Fall Jamboree. "I'm out here having fun and that's all that matters."
Fan Gear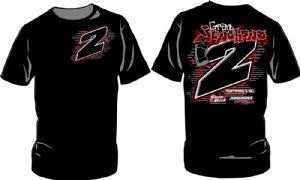 2015 Black T-Shirts and Hoodies
The cotton short sleeve t-shirt comes in sizes Small-3XL for $20 and the hoodies come in sizes Large-2XL for $35 (hoodies wear about one size smaller).
To order, email
info@grantjunghans.com
or send a check or money order to:
SHOP QUIK RACING
615 S 4TH ST
MANHATTAN KS 66502
Send an extra $5 for shipping and a note saying what sizes you are wanting.