March 13, 2016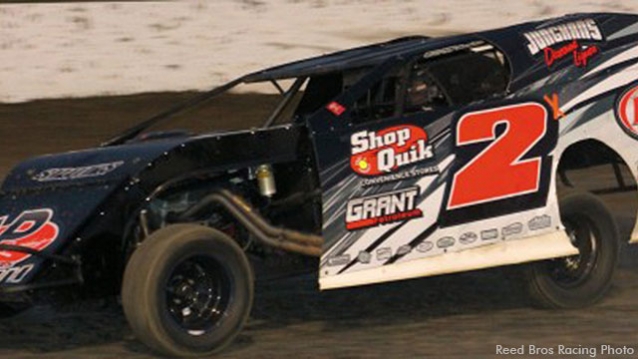 The ITP crew always showed up early to races. Like most individuals that 'people' watch at Walmart, we liked to 'people' watch at the race track. The people that showed up to race and the people that came to watch the races always intrigued us.
On this particular night a big hauler rolled in and everyone waited to see who got out of it. Our group new who it was because we lived to know things like that. It was our job to know the racers. Sitting in the crowd we got to see everyone's reaction when they discovered who was going to race on a given night.
As the driver got out of the rig you could tell he was young. It was a tall, thin young man out of Manhattan, KS, Grant Junghans.
Nobody else exited the truck. It was just him. Nobody else.
In the crowd several people started chatting about the driver. One comment in particular hit my ear on this night.
"There's a spoiled kid there," said the fan, "he gets to go out and race on daddy's dime and he doesn't appreciate anything."
It stunned me as I heard this comment. This person is like a lot of fans in dirt track racing. They see something or someone and perceive to know them or their situation without ever having talked to them.
When we used to do our radio show, In The Pits with John & Jr., one of things we used to say was to go down and meet the drivers and the crews. They are a cast of characters. In doing this fans could also get a better appreciation of who these people were and what they were about. It didn't matter if it was your favorite driver or not by meeting everyone you get a better picture of the sport we all love so much.
Let me tell you what I knew about Grant Junghans.
I don't remember how old Grant was when I met him. His dad, Greg, put together a modified team that I always thought was a playbook to bring both of his sons into racing. Lyle Shepard was the driver of the team and if you know Lyle he is the most outgoing individual in motorsports. He was the total opposite of the team owner, Greg Junghans. They were a fun bunch. A few years later Marc Robe joined the team and added even more excitement.
In hanging around I met two, young kids, Grant and Chase Junghans.
Quickly we formed a friendship. I don't know how much time I spent in the hauler playing video games with those two, but it was a lot. No matter where we were at Lakeside, Thunder Hill, Beatrice, Belleville, etc. I always made a point to talk to them. They were nice kids and the crew was a blast to be around.
It seemed like in the blink of an eye Grant shot to over 6 feet tall and started his racing career.
I would love to tell you that his racing career was sprinkled with championships and hundreds of victories, but it wasn't.
Grant was a quiet kid. He always seemed to put an eye to people and things around him. I am sure he and his brother heard those same comments that I heard in the crowd that day and it kept them guarded. Who should they trust? Who should they talk too? Does this person truly appreciate where I come from? These were probably a few things that went through Grant's mind.
For the racers and fans that did go up and talk to Grant Junghans, well, they got a treat.
Grant was a good person. He loved to be at the race track. If you watched him in the pit area you could see a glow about him as he visited with other drivers and crew members about hot setups, new cars, previous races and any other topics that we might not be able to mention in this article.
As do most young racers it took Grant a little while to warm up to being a fan favorite. When he started to embrace the fans people got a different perception about him. Fans started to see what we already knew about him. He was a hard working young man who appreciated everything and everyone that was involved with dirt track racing.
I don't know how many nights I saw him work and race by himself. Every now and then he might have someone in the pits to help out, but the kid had a drive. In my mind wins weren't everything to Junghans. To me Junghans was at home in a pit area and behind the wheel of a race car. Win, lose or draw Grant earned the respect of every racer he competed against.
There wasn't any time I can remember where Grant wasn't in the pits without a smile on his face and that is amazing considering what he faced beginning in 2010.
Junghans began a battle with cancer in 2010. He and his family were quiet about it. Grant's family and close friends new about it but in time the story would leak out to the masses.
For those that don't know, Grant went through a lot. Every time he would beat the disease down, it would come back with more vengeance.
No matter what he faced, Grant would come back to race again.
I remember after one battle he came back to race again at Heartland Park. As a member of the media and an employee of a race track you aren't suppose to show favoritism to any one driver. For the most part, I am pretty good at this unwritten rule.
On this night Grant was having a battle at the front of the pack with Kerry Davis. Grant was so thin and so frail at this time getting through 25 laps felt like 100 laps to him. He and Davis battled to the bitter end and Junghans came up just short. I cheered for Junghans to win like I have never cheered for anyone else before. I knew where he came from, what he had been through and what a win would have meant to him.
This one race summed up who Grant Junghans was in my eyes. Junghans was a young man that loved racing, he would give every ounce of his effort to be the best he could be and no matter the out come he could be proud of who and what he was about.
Last night Grant Junghans passed away. It hurt hearing the news.
It's a huge loss in the racing community.
It's nice to see the outpouring of support on social media today. I think there are a lot of lives that Grant Junghans touched, both in and out of the world of racing.
Hopefully, the person that made that comment at the track so many years ago also got a chance to know Grant Junghans. If they didn't it was surely their loss.
Grant Junghans will be remembered as one of the area greats in dirt track racing.
Our thoughts and prayers go out to all of his family and friends.
R.I.P. Grant Junghans.
Fan Gear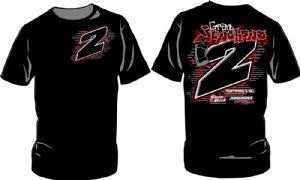 2015 Black T-Shirts and Hoodies
The cotton short sleeve t-shirt comes in sizes Small-3XL for $20 and the hoodies come in sizes Large-2XL for $35 (hoodies wear about one size smaller).
To order, email
info@grantjunghans.com
or send a check or money order to:
SHOP QUIK RACING
615 S 4TH ST
MANHATTAN KS 66502
Send an extra $5 for shipping and a note saying what sizes you are wanting.