September 26, 2016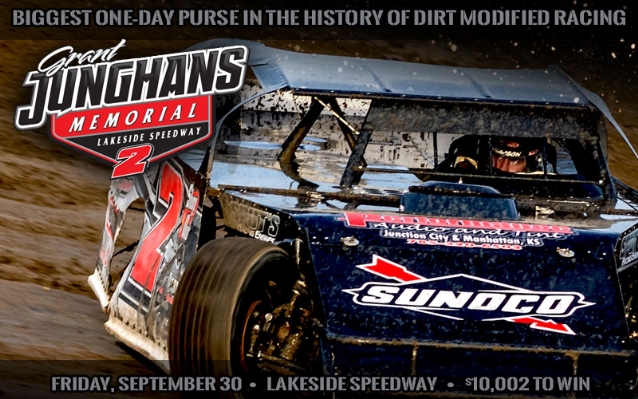 The biggest and richest one-day event in the history of dirt modified racing will take place this Friday, Sept. 30, when more than 100 drivers converge on the Lakeside Speedway in Kansas City for the inaugural Grant Junghans Memorial presented by BriggsAuto.com.
More than $100,000 will be paid out to drivers on this night, including $10,002 to the winner of the United States Modified Touring Series main event.
The very Best of the Best in dirt modified racing will be on hand for this epic show, as well as many surprise entries from regional open-wheel favorites to dirt late model superstars.
More than 120 cars and drivers were on hand and fired up on Aug. 19 when the event was rained out and postponed to this Friday, Sept. 30.
"Thanks to the Junghans family and dozens of financial supporters, this race will be incredible," said USMTS president Todd Staley. "In nearly 20 years of promoting races, I've never seen anything even close to this and what is happening with everybody wanting to be a part of it. It's a testament to the character and life of Grant Junghans and the fact that he touched so many lives in such a short time."
Grant was first diagnosed with cancer in February of 2010. Despite on-again off-again chemotherapy treatments and numerous surgeries, he never lost his sense of humor, fighting spirit or natural-born tendency to be decent to others.
The racing world lost one of its finest ambassadors this past March, and the Grant Junghans Memorial race will be an opportunity for his fans, family and friends to remember the good times and racing memories shared in his 27 years with us.
Here's the "official" payout for the inaugural Grant Junghans Memorial main event: 1. $10,002, 2. $8002, 3. $5502, 4. $4502, 5. $4002, 6. $3502, 7. $3002, 8. $2502, 9. $2202, 10. $2002, 11. $1802, 12. $1902, 13. $1602, 14. $1502, 15. $1402, 16. $1302, 17. $1202, 18. $1172, 19. $1162, 20. $1152, 21. $1142, 22. $1532, 23. $1122, 24. $1112, 25-30. $1102.
Tow money will be a minimum of $152 for all drivers not making the 30-car feature race, but that's just the tip of the iceberg.
Extra money—lots of it—will be doled out to drivers finishing in pre-determined mystery positions, lap money, heat race bonuses, hard charger awards and a Long Tow Award with the following bonuses: 1. $500, 2. $400, 3. $300, 4. $200, 5. $200.
Overall, more than $100,000 will find its way into the pockets of competitors.
Not only are the Modifieds making more bank, but the payouts for the Holley USRA Stock Cars and Out-Pace USRA B-Mods have also been expanded: 1. $700, 2. $500, 3. $400, 4. $350, 5. $300, 6. $270, 7. $250, 8. $220, 9. $200, 10. $180, 11. $160, 12. $150, 13. $140, 14. $130, 15. $125, 16. $120, 17. $115, 18. $110, 19. $105, 20. $100 to start. There's no entry fee for support classes, just pit passes.
Modifieds will also be co-sanctioned by the United States Racing Association with valuable USRA national points awarded.
Drivers on hand on Aug. 19 include Shad Badder, Cody Bauman, Brock Bauman, Josh Beckham, Terry Beckham II, Buddy Benedict, Nic Bidinger, Masen Big Eagle, Jett Big Eagle, Johnny Bone Jr., Billy Brutchin, Corey Burch, Shane Clanton, Tate Cole, Lucas Conley, Mike Cook, Kyle Covert, Cory Crapser, Chad Davis, Tad Davis, Kerry Davis, Mike Densberger, Brad Dierks, Cade Dillard, Chase Domer, Matt Dotson, Scott Drake, Luke Driskell, Brent Dutenhoffer, Joe Duvall, James Eaton, Mike Eisenhunt, Josh Everhart, Johnny Fennewald, Sam Florence, Darron Fuqua, Kenny Gaddis, Sean Gaddis, Fito Gallardo, Jake Gallardo, Barry Gifford, Brian Green, J.D. Gresham, Tyler Grooms, Kevin Guinn, Ryan Gustin, Bubba Harvey, Dagan Heim, Daniel Hilsabeck, Jason Hughes, Marc Hurd, Eddie Ingram, Lewis Jackson, Mike Jergens, Justin Johnson, Brian Johnson, Chase Junghans, Darwin Karau, Tim Karrick, Adam Kates, Danan Knott, Josh Lanterman, Trevor Latham, Matt Leer, Chad Lyle, Aaron Marrant, J.C. Matlingly, Blonde Bomber Mitchell, Jim Moody, Tanner Mullens, David Murray, Gene Nicholas, Levi Nielsen, Paul Niznik, Jake O'Neil, Jeremy Payne, Paden Phillips, Terry Phillips, Dan Powers, Dereck Ramirez, Jeremy Rasmussen, Ryan Restad, Kirby Robe, Scotty Roberts, Bobby Ruff, Jared Russell, Kevin Rutherford, Rodney Sanders, Zach Sanders, Jack Sartain, Travis Saurer, Ryan Schaffer, Mark Schafman, Randal Schiffelbein Jr., Kyle Schmidt, Tyler Schmidt, Lucas Schott, Ken Schrader, Terry Schultz, Stormy Scott, Johnny Scott, Jon Sheets, Austin Siebert, Dylan Smith, Jesse Sobbing, Kevin Stoa, Mike Striegel, Wesley Summers, Ricky Thornton Jr., Jake Timm, Lance Town, Rusty Trevathan, Zack VanderBeek, Tommy Weder Jr., Chad Wheeler, Nick Whitehead, Dean Wille, Brian Williams, Tyler Wolff and Cory Wray.
Sponsors so far stepping up to make this race possible are Ramirez Motorsports, Rancho Milagro Racing, Day Motor Sports, Mesilla Valley Transportation, A&A Electric & Underground, Pro-Line Buildings/33z Racing, Malvern Trust & Savings Bank, TOS Motorsports, RealTruck.com/Scott Bintz Racing, Fast Shafts, Midwest Sheet Metal, BriggsAuto.com, MB Customs Race Cars, Sput's Racing Engines, CPD Racing Shocks, VP Race Fuels (Heartland), Real Wheels, Boubin Tire & Automotive, JS Sign & Awning, Shop Quik, Stussy Rock & Construction, B&B Racing Supply, CCA LLC Investments (Thomas Tillison family), River's Edge Scrap Management, Richard (Gator) & Lana Calhoun, Lobo Racing/Wolff Family, Home Pride Companies, Chad & Jamie Dolan, Edge Services (Weder family), Pioneer Excavating & Trucking (Tim Thomas), Speedway Motors, Grain Handler USA, Victory Trophies & Plaques, Show-Me Synthetics
Krohn Family (in memory of Natalie Krohn) and Kling Auto & Diesel Repair.
The Junghans family will be selling special event shirts with proceeds going to children's cancer research. At the first attempt back in August, nearly 1,000 shirts were sold before the rain began to fall. More will be available at this event.
Simpson Race Products will be giving away a $600 head and neck restraint system to one driver on this night, AFCO Racing Products will be giving away a $200 gift certificate to every "A" Main qualifier and KEVKO Oil Pans & Components will be awarding a new oil pan ($600 value) to one lucky driver.
Deatherage Opticians will be handing out a $50 gift certificate off the purchase of a pair of Oakley sunglasses to every driver participating in the Grant Junghans Memorial, Show-Me Synthetics will be giving out a case of oil to the winner and Pit Stop Catering will be handing out some BBQ sauce.
Jesse and Brandi Sobbing will be supplying treats for a kids' Candy Dash during the night, and the Southern New Mexico Speedway will award a free entry to the USRA Fall Nationals ($250 value) to the second-place finishing car in the main event.
All of this cash and prizes are in addition to the fantastic contingency awards doled out at every USMTS event from Allstar Performance, American Racer Racing Tires, Bell Helmets, Beyea Custom Headers, BSB Manufacturing, Day Motor Sports, Deatherage Opticians, Edelbrock, Eibach Springs, Fast Shafts, FK Rod Ends, Forty9 Designs, Fuel Safe Racing Cells, GRT Race Cars, Hooker Custom Harness, Integra Shocks & Springs, Jerovetz Motorsports Shock Service, KEVKO Oil Pans & Components, Keyser Manufacturing, KSE Racing Products, Midwest Sheet Metal, MSD, Out-Pace Racing Products, PBM Performance Products, QA1 Precision Products, Real Racing Wheels, Sybesma Graphics, VP Racing Fuels, Wehrs Machine & Racing Products and Wilwood Engineering.
If you are interested in being a sponsor of this event be sure to call the USMTS office at 515-832-7944.
To help make the return trip even better for competitors, a special "Deuces Wild" event will be held on Thursday night, Sept. 29, prior to the Grant Junghans Memorial. Modified drivers will have two main events paying $1,500 to win each. That means 48 drivers will qualify for the feature races from heat races and Real Racing Wheels "B" Mains. This event will also feature Stock Cars and B-Mods with USRA national points awarded in all three classes.
To learn more about the United States Modified Touring Series, visit www.usmts.com online or call 515-832-7944. You can also like us on Facebook at www.facebook.com/usmts, follow us on Twitter at www.twitter.com/usmts and Instagram at www.instagram.com/usmts or subscribe to our YouTube channel at www.youtube.com/usmtstv.
Fan Gear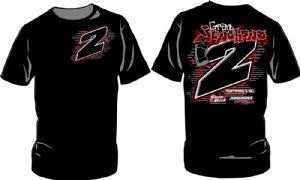 2015 Black T-Shirts and Hoodies
The cotton short sleeve t-shirt comes in sizes Small-3XL for $20 and the hoodies come in sizes Large-2XL for $35 (hoodies wear about one size smaller).
To order, email
info@grantjunghans.com
or send a check or money order to:
SHOP QUIK RACING
615 S 4TH ST
MANHATTAN KS 66502
Send an extra $5 for shipping and a note saying what sizes you are wanting.