November 10, 2019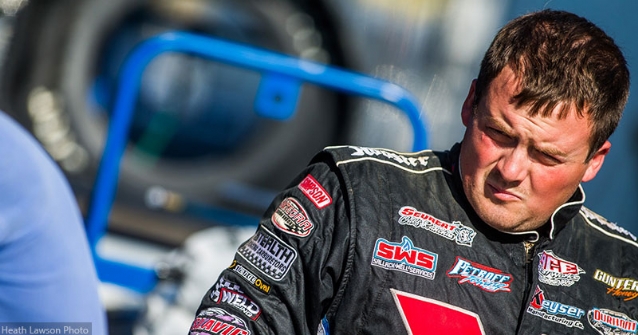 Brandon Sheppard officially became the 2019 World of Outlaws Morton Buildings Late Model Series champion on Saturday night during the World Finals in Charlotte, and now he sets his sights on another career milestone this coming weekend.
Sheppard, who has claimed multiple six-figure dirt late model wins this year, will be searching for another big paycheck to pad his bank account when he makes his debut with the world's top dirt modified series at the 4th Annual USMTS Grant Junghans Memorial at the 81 Speedway in Park City, Kansas this Saturday, November 16.
The 26-year-old from New Berlin, Illinois, is close friends with fellow World of Outlaws racer Chase Junghans—the younger brother of Grant Junghans and a former USMTS regular.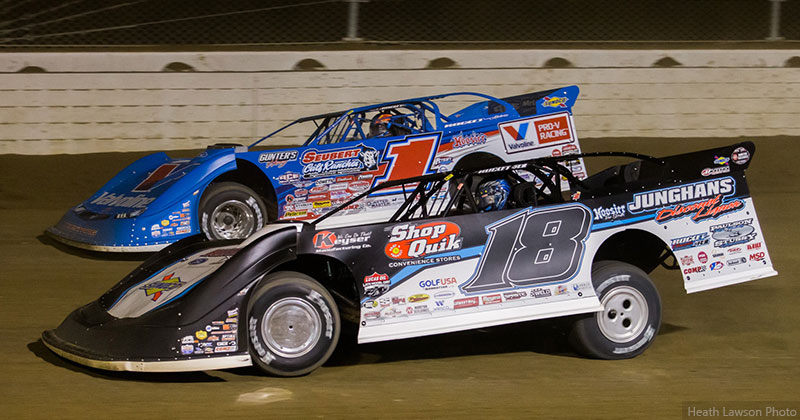 Brandon Sheppard battles with Chase Junghans during World of Outlaws Morton Buildings Late Model Series action this season.
Sheppard began his career as a second-generation driver and made headlines in 2012 when he climbed aboard the No. 1 Rocket Chassis house car after regular pilot Josh Richards stepped aside to focus on his NASCAR opportunity.
Since then, the 2013 UMP DIRTcar Late Model National Champion has recorded 55 feature wins with the series and has two championships in his back pocket. He won 18 main events this season to match his 2017 effort when he returned to the Mark Richards Racing house car.
Sheppard will be driving a Hughes Racing Chassis out of the Ramirez Motorsports stable this weekend with the USMTS warriors.
The 4th Annual Grant Junghans Memorial will happen on Saturday, November 16, at the 81 Speedway in Park City, Kansas, as part of a big doubleheader weekend that kicks off on Friday, November 15, with the 3rd Annual Chisholm Trail Showdown.
Memorializing one of the most popular USMTS racers ever, the Grant Junghans Memorial will once again pay $10,002 to the winner while every main event starter will earn at least $1,202.
The racing world lost Grant Junghans on March 12, 2016, after a courageous six year battle with a rare form of neuroendocrine cancer. The Grant Junghans Memorial race is an opportunity for his family, friends, fans and fellow competitors to remember the good times and racing memories shared in his 27 years with us.
Junghans was first diagnosed with cancer in February of 2010. Despite on-again off-again chemotherapy treatments and numerous surgeries, he never lost his sense of humor, fighting spirit or natural-born tendency to be decent to others.
He was also the 2009 USMTS Rookie of the Year and that award has since been renamed in his honor.
Lucas Schott topped the inaugural Grant Junghans Memorial in 2016, Rodney Sanders took home the trophy in 2017 and Jake O'Neil claimed the title last year.
This year's event is even more special as the race will take place on the eve of Grant's birthday. It's also the first year that the race will be hosted by the 81 Speedway.
"C. Ray Hall has done a great job at 81 Speedway," said USMTS President Todd Staley. "One of our closest finishes of the season happened here to kick off the Hunt for the Casey's Cup when Terry Phillips nipped Dereck Ramirez at the line."
In addition to the top prize of $10,002, Non-qualifiers will take home no less than $152 for a single day's work. Long Tow Awards of $500, $400, $300, $200 and $200 will be awarded. Heat races will pay $100, $75, $50 and $25 to the top four, respectively, and dozens of other cash prizes and contingencies will also be up for grabs.
Friday's Chisholm Trail Showdown will pay $3,000 to win and $250 to start the main event. This show is separate from Saturday's Grant Junghans Memorial with NCRA, USMTS and/or USRA rules in effect for Modified competitors.
In addition to the world's best in open-wheel dirt modified racing, the USMTS warriors will be joined by B-Mods both nights. B-Mods will be racing for $500 to win and $75 to start on Friday. On Saturday night, B-Mods will battle for $1,002 to win and $122 to start the feature.
For every grandstand ticket and pit pass sold, $5 will go to the Grant Junghans Memorial Fund which supports research and funding for childhood cancer. Also, $25 from each entry received will go to the fund. Last year more than $20,000 was raised.
FRIDAY, NOVEMBER 15
Pits Open 3:00 p.m.
Grandstands Open 5:00 p.m.
Drivers Meeting 5:30 p.m.
Racing at 6:00 p.m.
Tickets $20
Juniors (12-16) and Seniors (65+) $15
Kids (6-11) $5
5 & Under FREE
Pit Pass $35
SATURDAY, NOVEMBER 16
Pits Open 2:00 p.m.
Grandstands Open 3:00 p.m.
Drivers Meeting 4:30 p.m.
Racing at 5:00 p.m.
Tickets $25
Juniors (12-16) and Seniors (65+) $20
Kids (6-11) $10
5 & Under FREE
Pit Pass $40
The early entry fee for Modifieds on Friday is $100 for USMTS-licensed drivers, $110 for non-licensed or $125 for all drivers on race day. Saturday's Grant Junghans Memorial entry fee is $125 on or before Friday or $150 on Saturday. B-Mods will have a $50 entry fee on Saturday.
Friday's Modified Payout: 1. $3000, 2. $1700, 3. $1100, 4. $700, 5. $600, 6. $550, 7. $500, 8. $450, 9. $425, 10. $400, 11. $375, 12. $350, 13. $325, 14. $300, 15. $275, 16. $250, 17. $250, 18. $250, 19. $250, 20. $250, 21. $250, 22. $250, 23. $250, 24. $250, Tow $90.
Saturday's Modified Payout: 1. $10,002, 2. $5002, 3. $4002, 4. $3002, 5. $2502, 6. $2202, 7. $2002, 8. $1802, 9. $1702, 10. $1602, 11. $1502, 12. $1402, 13. $1302, 14. $1292, 15. $1282, 16. $1272, 17. $1262, 18. $1252, 19. $1242, 20. $1232, 21. $1222, 22. $1212, 23. $1202, 24. $1202, Tow $152.
Friends of dirt track racing that have stepped up to support this event include A&A Electric & Underground, Malvern Bank, MB Customs Race Cars, Mel Hambelton Ford, Park City, Ramirez Motorsports, Rancho Milagro, Real Racing Wheels, Rick Beebe Heating & Air Conditioning, Shell Oil and Shop Quik Convenience Stores.
If you are interested in being a sponsor of this event, please call the USMTS office at (515) 832-7944.
Every lap of every race both nights will be covered live by RacinDirt.TV – the authority on digital dirt racing drama.
Event officials are calling for at least 50 degrees at race time or the event will be postponed to the following Friday and Saturday, November 22-23. If we lose that weekend, the race will happen in the spring of 2020.
To learn more about the United States Modified Touring Series (USMTS), visit USMTS.com online or call (515) 832-7944. You can also like us on Facebook at facebook.com/USMTS, follow on Twitter at twitter.com/USMTS, check us out on Instagram at instagram.com/USMTS and subscribe to our YouTube channel at youtube.com/USMTSTV. Keep up to speed by joining our email list at USMTS.com/Subscribe.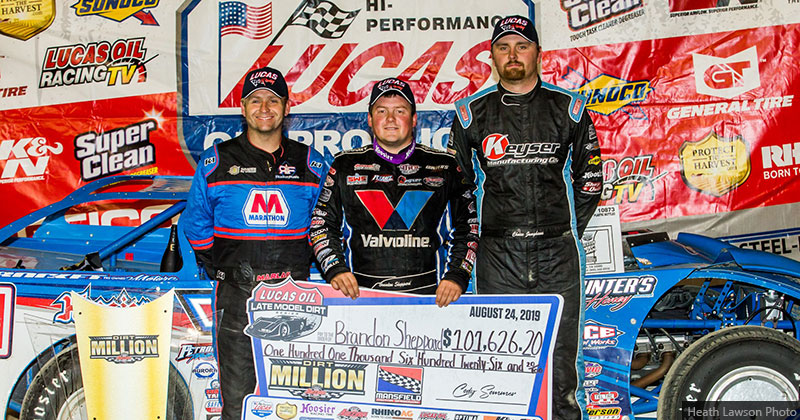 From left to right: Mike Marlar, Brandon Sheppard and Chase Junghans in victory lane at the Dirt Million this past August.
Fan Gear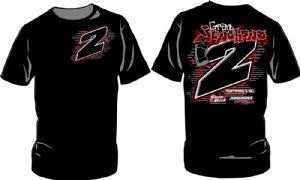 2015 Black T-Shirts and Hoodies
The cotton short sleeve t-shirt comes in sizes Small-3XL for $20 and the hoodies come in sizes Large-2XL for $35 (hoodies wear about one size smaller).
To order, email
info@grantjunghans.com
or send a check or money order to:
SHOP QUIK RACING
615 S 4TH ST
MANHATTAN KS 66502
Send an extra $5 for shipping and a note saying what sizes you are wanting.