March 14, 2016
| by Jason Feldman, Rochester Post-Bulletin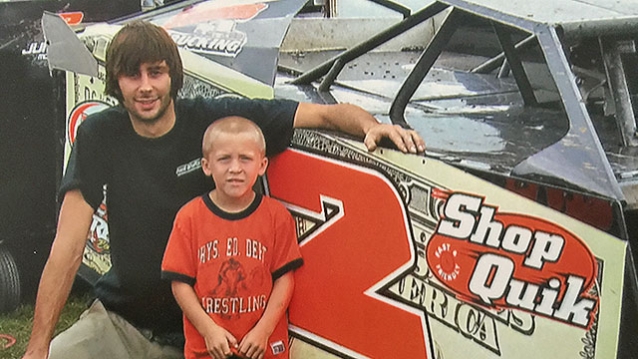 Grant Junghans spent more time in the Rochester area than he would have liked.
Some of that time was spent at one of his favorite places in the world, Deer Creek Speedway, near Spring Valley. But over the past six years, more of his time in this area was spent in one of his least favorite places to be, the Mayo Clinic campus.
For much of the last half-decade, Junghans was able to keep the cancer in his body at bay, to battle through the pain and the fatigue of treatment and continue his racing career. Junghans turned hundreds of laps at Deer Creek in his No. 2 Modified, often while racing with the United States Modified Touring Series.
Last year turned out to be Junghans' last in a race car.
He died over the weekend, at just 27 years old, after a six-year battle with Neuroendocrine Carcinoma, a form of cancer that causes tumors to randomly form throughout the body, most notably on lymph nodes.
The Manhattan, Kan., native left the sport he was so passionate about on a high note.
In 2015, Junghans won the second USMTS feature of his career, at Devil's Bowl Speedway in Mesquite, Texas, in June. Three months later, he capped his career with one his biggest victories — if not the biggest — when he won the $10,000 A Main at the Armadillo Nationals at Lone Star Speedway in Kilgore, Texas.
He also spent much of the past two years following the career of his brother, Chase, who is just beginning his third season as a full-time driver with the World of Outlaws Late Model Series.
Grant Junghans was first diagnosed with cancer in February of 2010 when he felt a small knot in his shoulder, about the size of a pea. He had surgery at a hospital near his home in Kansas to remove the lump, but his doctors there immediately ordered him to see a specialist.
He came to the Mayo Clinic, where doctors put him on chemotherapy for most of the spring and summer of 2010. In December of that year, he returned to Mayo for a routine checkup only to learn the cancer had spread to his lymph nodes and into his chest, requiring another surgery.
The cancer has never completely left his body. He had two brain surgeries at Mayo Clinic Hospital, Saint Marys Campus in July and December of 2013. He returned to racing in the summer of 2014 and competed in the World Modified Dirt Track Championship at Deer Creek, one of the final appearances he made at the track.
"I'm out here having fun and that's all that matters," he told the Post-Bulletin at that time.
The news of his death spread quickly through the racing community, with everyone from USMTS drivers Morgan Bagley and Jeremy Payne to NASCAR personality Kenny Wallace posting their condolences on social media.
"We extend our deepest sympathies to the family of Grant Junghans as they mourn his passing," Payne wrote on Twitter. "We are all better by having known him. Rest in peace, Grant."
Junghans' Twitter bio summed up his will to live and fight for as long as he did: "Just living life to the fullest... day by day!!!"
Fan Gear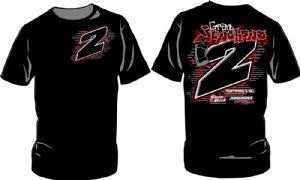 2015 Black T-Shirts and Hoodies
The cotton short sleeve t-shirt comes in sizes Small-3XL for $20 and the hoodies come in sizes Large-2XL for $35 (hoodies wear about one size smaller).
To order, email
info@grantjunghans.com
or send a check or money order to:
SHOP QUIK RACING
615 S 4TH ST
MANHATTAN KS 66502
Send an extra $5 for shipping and a note saying what sizes you are wanting.